May 15, 2023
CPSL Mind talks menopause and mental health on The Happy Employee Podcast
Jo Clarke, Head of Training at CPSL Mind and Mike O'Hara, Director of Training at Start Within, discuss destigmatising menopause and the symptoms that can be experienced from a mental health perspective.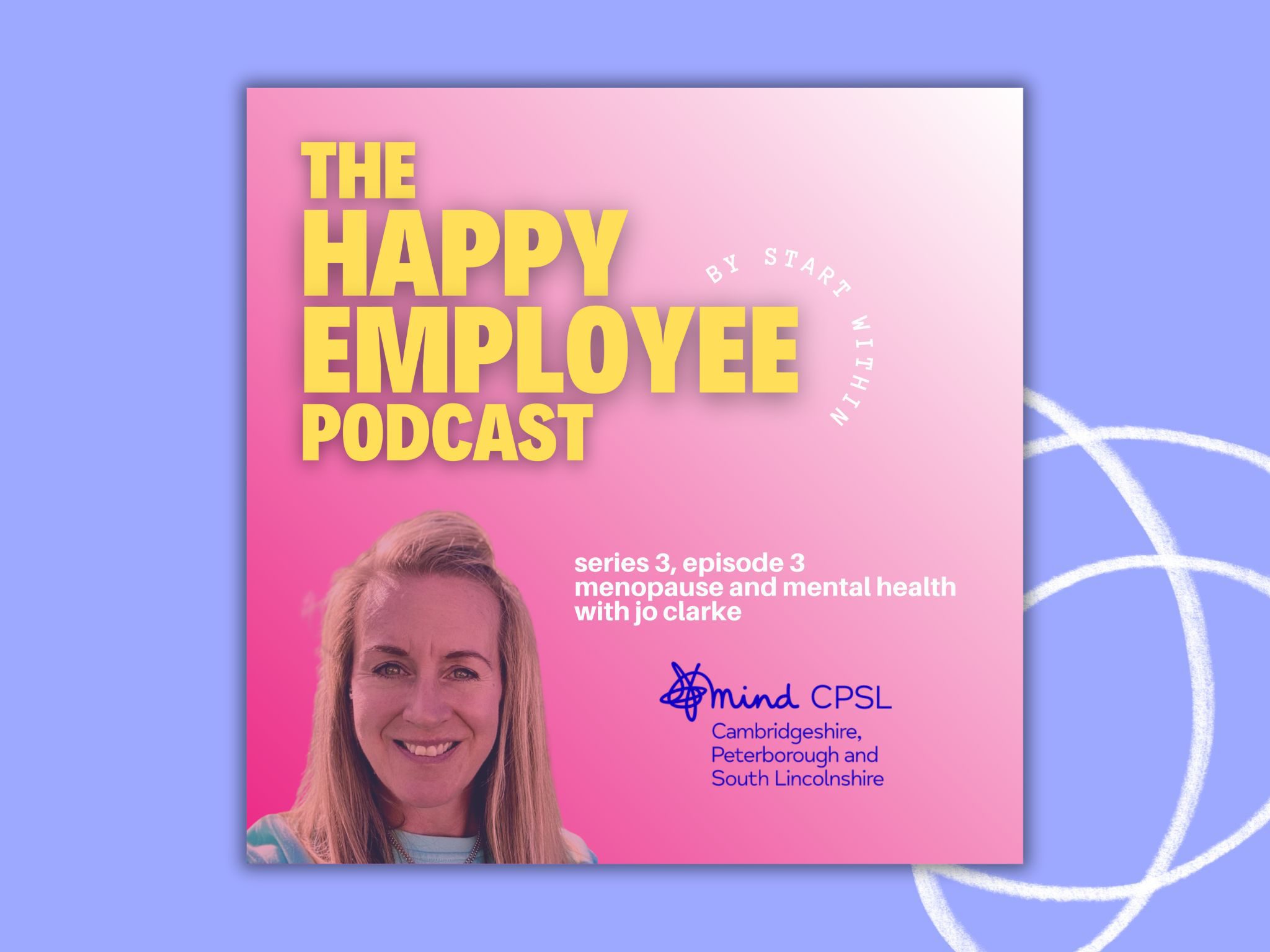 Did you know that according to the NHS, it's estimated that there are around 13 million people who are currently perimenopausal or menopausal in the UK? That means a third of women in the UK are experiencing debilitating symptoms such as hot flushes, night sweats, difficulty sleeping, low mood, anxiety that affect daily life, work, relationships, and future health. Currently, there is a lack of awareness of the physical symptoms of menopause and the impact it can have on a person's mental health.
Here at CPSL Mind, we want to help people understand the physical and mental health changes that take place during perimenopause and menopause and equip them to help manage this life stage. In response to need and requests from local organisations, we have developed two new Menopause and Mental Health training courses that support the local community in Cambridgeshire, Peterborough and South Lincolnshire.
Following the successful launch of the Menopause and Mental Health courses last year, CPSL Mind was asked to feature on The Happy Employee Podcast by Start Within – a podcast series which focuses on all things mental health in the workplace. During the interview, Jo Clarke, Head of Training, Consultancy and Business Development at CPSL Mind discusses menopause symptoms women may experience from a mental health perspective, raising awareness to facilitate inclusion around menopause.
When asked about her appearance on the podcast, Jo Clarke told us about the importance increasing knowledge, education and starting conversations about menopause, she said, "The menopause can be life-changing physically, but over 40% of people experiencing it aren't aware of the mental health impact of this life stage. Nearly 70% of people going through the menopause experience anxiety, depression, and other psychological symptoms. Being aware of how the menopause can impact a person's mental health is essential to supporting them. Our training provides knowledge of the mental health challenges of the menopause and the skills to support yourself or others through this life stage."
Jo went on to add, "With 9 out of 10 women in the UK workforce reporting adverse effects on their work and 1 in 10 women deciding to leave their jobs completely, this training helps employers and their staff in the workplace by learning how to support a person's wellbeing and their work life. Our aim is to destigmatise menopause in the workplace by working with companies to increase knowledge and awareness, creating an open culture where menopause is openly discussed."
She goes on to say, "For anyone looking to increase their workplace knowledge and understanding of menopause I would recommend our one-hour Menopause and Mental Health Awareness training which is aimed at all employees. We have also developed a three-hour Menopause and Mental Health Awareness training course for managers which educates how managers can have open and supportive conversations about the menopause with employees, provide support and learn how to make reasonable adjustments in the workplace."
Where can I sign up for menopause and mental health training?

Like Jo said, here at CPSL Mind we offer a wide range of expert mental health and wellbeing training opportunities in Cambridgeshire, Peterborough and South Lincolnshire.
If you're interested, you can sign up for our one hour course on menopause and mental health awareness or the three hour menopause and mental health: for managers course.
Where can I listen to The Happy Employee Podcast?
Do you want to listen to the full podcast? In this episode, Jo shares incredible tips on how to improve mental health and the impact that challenges with menopause can have on women in the workplace. Listen to the full podcast here.
Sign up to
our newsletter
Sign up to receive bi-monthly news and updates from CPSL Mind. You can unsubscribe at any time.