May 8, 2019
Abigail Chiswell-White, raises over £1,000 for CPSL Mind
On the 28th of April Abigail took part in the London Marathon and raised an amazing amount for local mental health charity, Cambridgeshire, Peterborough and South Lincolnshire Mind (CPSL Mind)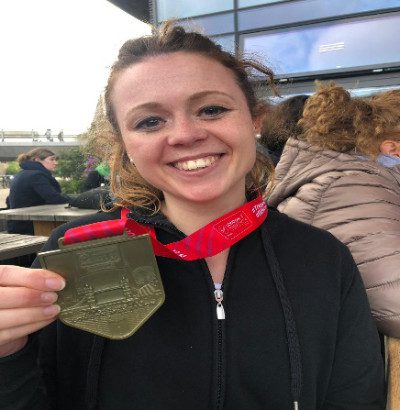 On the 28th of April Abigail took part in the London Marathon and raised an amazing amount for local mental health charity, Cambridgeshire, Peterborough and South Lincolnshire Mind (CPSL Mind)
After a tough race she completed the course in an impressive 4 hours and 37 mins. Abigail was inspired to fundraise for CPSL Mind after she found out that the main cause of death for men aged 20-49 in the UK was suicide.
Abigail said, "I feel so proud to have run the 2019 London Marathon for CPSL Mind. It was tough at times (I won't be signing up to another marathon anytime soon!) but crossing the finish line after 4hours and 37mins felt amazing.
I've been totally overwhelmed by the generosity and support of friends, family, colleagues and strangers both throughout my training and on the day. Every person that donated to my fundraising page recognised the importance of CPSL Mind. It's a very special charity. I was so shocked last year when I found out that the main cause of death for men aged 20-49 in the UK was suicide. We've come on leaps and bounds when it comes to talking about mental health, but we still have a long way to go.
Being from Cambridge, I was keen to support the work of Mind in our local community. CPSL Mind provide support for people struggling with their mental health in the Cambridgeshire area – however big or small their worries might be – alongside training to raise awareness and campaigning to tackle the stigma. It's quite clear they have a monumental challenge on their hands and couldn't do the work they do without the donations they receive. THANK YOU to everybody who has helped me to reach my target of £2,000, which will be split between National Mind and CPSL Mind. It was an unforgettable experience and I'm over the moon!"
Zoe Doherty, fundraiser for CPSL Mind commented, "I could not have said this any better. Last year we provided 20,181 hours of direct support to local people. Demand for our services remain high so Abigail's support means a great deal to us.  On behalf of everyone at CPSL Mind Abbi, thank you so much for all your hard work and for raising so much money."
Sign up to
our newsletter
Sign up to receive bi-monthly news and updates from CPSL Mind. You can unsubscribe at any time.