July 27, 2019
Slimming World members and M&Co raise money for local charity CPSL Mind
CPSL Mind was delighted when Slimming World St Ives, contacted them to say they had raised £800.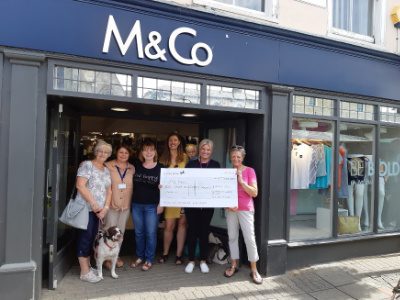 CPSL Mind was delighted when Slimming World St Ives, contacted them to say they had raised £800.
The St Ives region has over 700 Slimming World members and this year they chose CPSL Mind to support. The money was raised from a 5p top up on all Slimming World products, two fashion shows hosted at M&Co in St Ives as well as a sponsored walk. In total the members raised a very impressive £800 for the local mental health charity.
Di Turner (Slimming World Consultant) said, "We chose CPSL Mind as mental health is so important and many of our members have struggled with life's challenges. Today 1 in 4 of us in any one year will have a diagnosable mental health condition. At Slimming World a large part of what we do is talking to our members about how they are feeling and what they can do to improve their wellbeing. We chose to do a sponsored walk as getting active is not only great for weight loss but it can also greatly improve mood and we all had a lot of fun raising money together. I hope this money will help a lot of local people who are struggling with their mental health".
Sam Yearsley (Assistant Manager, M&Co) commented, "We were delighted to host the charity fashion shows. It was the Slimming World members themselves who did the modelling and seeing their enjoyment on the day and how much of a confidence boost it gave them, was truly inspirational. We are so happy to be supporting such a great, local cause."
Zoe Doherty, Fundraiser for CPSL Mind said, "We are extremely grateful to Slimming World and M&Co for raising this money. This donation will be used to fund vital services such as our Sanctuary service which helps people in mental health crisis every evening between 6pm – 1am. A huge thank to everyone who was involved."
Sign up to
our newsletter
Sign up to receive bi-monthly news and updates from CPSL Mind. You can unsubscribe at any time.